My name is Sandra Smith, I am the Cultural/Family-Elder/Youth Mentorship Coordinator. My role is to bring the programs of the Friendship House together through culture.
This program encompasses the physical, mental, emotional and spiritual aspects of the lives for children, youth, adults and seniors. Workshops are developed around cultural and traditional teaching which provided inter-generational settings, a basic foundation for spirituality and life skills.
Regularly scheduled workshops provided include; Sewing, Power Puffs; LOOP/KAPS; Design; Cedar Weaving; Ladyz Club; Mini drum workshop with preschool; distribution of school supplies for children in grades K to 12, Lil Cubs Summer Camp for 5 & 12 year old in partnership with Rose Temple the Aama Goot Women's wellness Coordinator. Of all the programs, I feel that Lil Cubs is by far the most successful we have running. Lil Cubs is an outdoor program meant to open the doors of friendship for the children who attend. Some of the art projects completed this year are cedar bark baskets, cedar woven salt and pepper shakers, red dress earrings, beaded baseball caps and the cedar frog project.
Working as part of the Friendship House Team; we participated in special events that include National Day for Truth and Reconciliation; the Thanks Giving, Christmas, Easter and Valentines Good Food Boxes; Block Party; Cedar Bark/Devils Club Harvesting; Oolichan distribution; Smoking/jarring Salmon with Sadie and Stan Dennis. Clients and staff were also given several meals over the year that contained either jarred fish, smoked fish or smoked black cod. We have also partnered with the Department of Fisheries and Oceans distributing fish to the community members.
This year the program's point of service is 7240, of that 6168 were First Nations. There was 940.75 hours of direct Individual service and 728 hours of direct group service. The program success developed through the mentorship from the Friendship House Family and partnerships we have made throughout the community. Traditional learning is on-going and I would like to thank our Elders Sadie & Stan Dennis and Noella & Murphy Gouchie for their patience and time. Partnerships with Aama Goot Women's Wellness - Rose Temple and A&D Counselor – Katie Mierau have been very successful. Also partnerships with YIP Support Work – Marvin Wilson and Arianna Price a youth worker who are a big part of the Lil Cubs Summer Camp. Last of all I would like to thank all the volunteers who have helped us throughout the year.
--Sandra Smith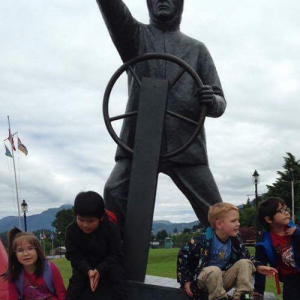 Lil Cubs Summer Camp
     Lil Cubs summer camp takes place every year in the summer months of July and August. The camp is for all children from the ages of 5 and 6 years old. If you are interested, contact the Friendship House for registration forms.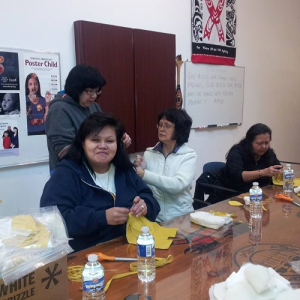 Sewing
Either Sewing or Sign Language takes place every Monday between 1:00 p.m. and 4:00 p.m. The sewing class is a partnership with Rose Temple of Aama Goot Women's Wellness.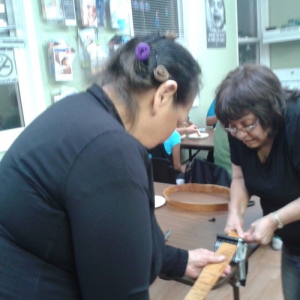 Family Night Weaving
     Family Night Weaving meets every Thursday night between 6:00 p.m. and 8:30 p.m. Where you will learn right from the beginning to the end all the skills needed, (stripping, thinning and twining). All the projects depend on availability of Cedar.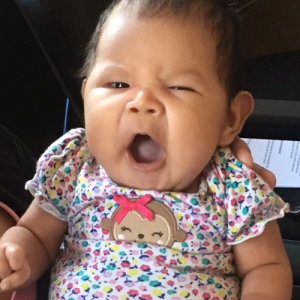 Baby Sign Language
Baby Sign Language or Sewing takes place every Monday between 1:00 p.m. and 4:00 p.m. The Baby Sign Language class is a partnership with Sharlene Wilson, (consultant for Aboriginal Supported Child Development).
The Family Cultural Program (AECD) partners with various other Friendship House programs for many different community events, (some listed above).
Contact: Sandra Smith
Phone: (250) 627-1717 ext. 27
AECD is funded by the Province of British Columbia.